Back to Shop
Glitter Be Gone!/Poof! Be Gone!/ Hybrid Gel Top Coat/Galaxy Holo Dust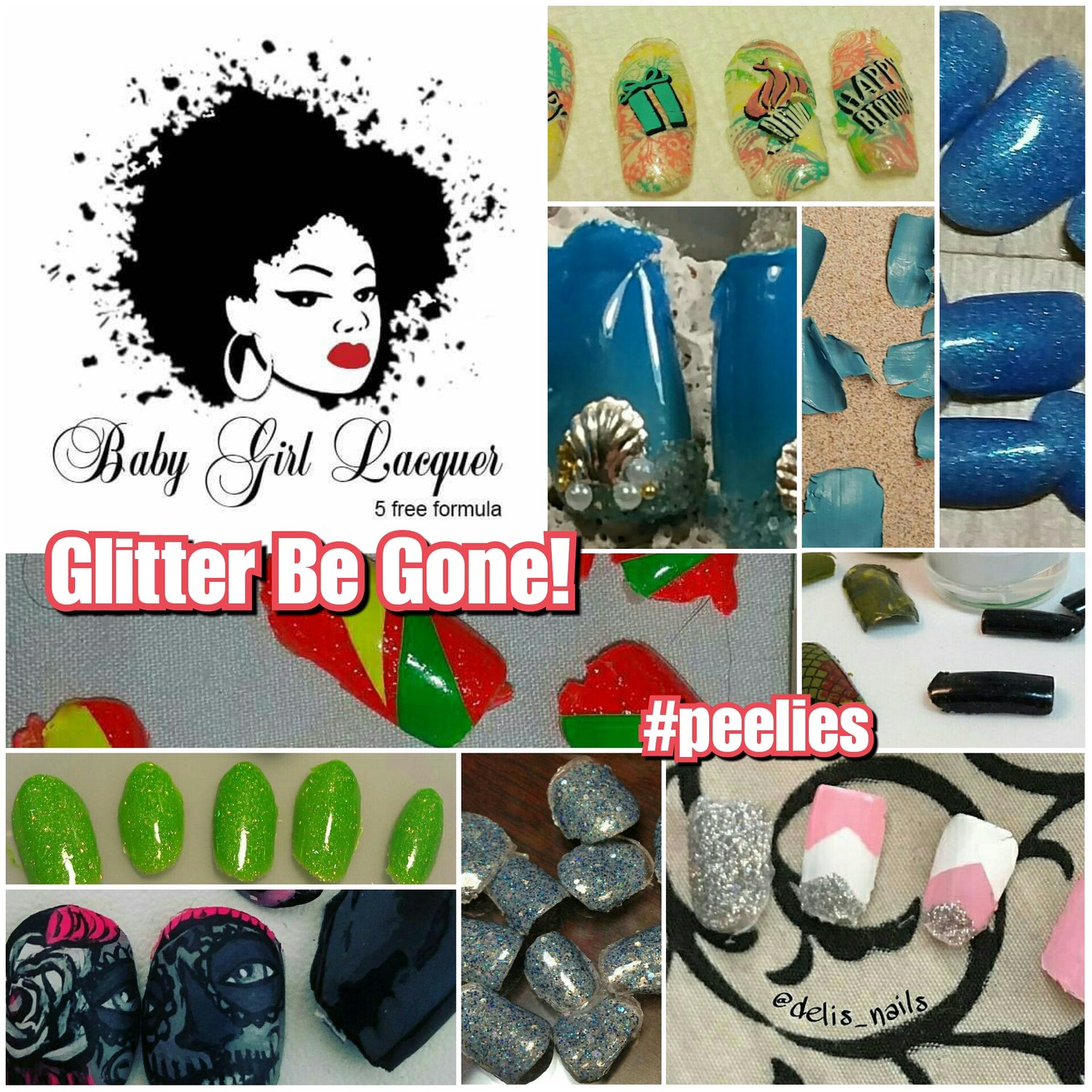 $

4.50
Best Selling Item Of All Time!!!
GLITTER BE GONE!!!!
Now Available in Economy (EC: 10 mL), Standard (ST: 15 mL) 1 oz. or 2 oz. refills!!
September Special: GBGSALE25: Save 25%
Sick of glitter removal problems?! Wanna know how you can pop off whole, glitter applications? It's easier than you think! Feel free to grab a bottle of "Glitter Be Gone". My concoction dries fast and you can easily peel off the glitter when you're ready. I'm not the originator of POBCs, but I tweaked my formula just a little.
Use 2 coats for best results. Dries matte when it's time to proceed with polish! Use the tag #ShowMeYourGlitterBeGonePeels to have your peeled featured on Instagram!!!
Refill Info: Once ounce (30 mL) = 2 refills; Two ounce (60 mL) = 4 refills. Refill sizes are based on standard (ST) bottle sizes.
NOTE: A one ounce refill can fill a 10 mL economy bottle approx. three times . A two ounce refill can fill a 10 mL bottle approx. six times.
SPECIAL NOTES:
Express Removal: Apply 1-2 coats as a base and then polish.
Extended Wear/ EZ Removal: Apply standard base coat, then apply 1 coat of GBG. This will allow you to apply a different polish immediately after.
Latex-free. Skin-safe, non-toxic & water-based.
Ingredients: A (Proprietary mixture) of water, polyvinyl acetate, isopropyl alcohol & polyvinyl alcohol.
----------------------
************************************************************
------ "Poof! Be Gone!" Latex-Free Barrier:
Do you have latex sensitivity? Then "Poof! Be Gone!" Liquid Drop Cloth is just right for you. It has a bright citron green color and a nice, clean scent.
*Available in Two Sizes: Economy (EC) = 10 mL & Standard (ST) = 15 mL!
*Latex-Free
*Dries In Approx. 5 minutes
*Safe for skin
*Moisturizes the skin when peeled away
**Please note: if using during watermarble nail art, be advised, it may be affected by prolonged exposure to water. Simply allow it to dry fully before peeling.
Ingredients: A proprietary mixture of PolyVinyl Acetate (PVA), Isopropyl Alcohol, PolyVinyl Alcohol (PVA), Organic Cuticle Oil, Titanium Dioxide, Mica, Acrylic Paint (to help aid in better peeling action; non-toxic/skin-safe)
----------------------------
*******************************************************************
*******************************************************************
Wanna have chrome nails without using UV GEL polish?!
Let BGL help you do that! Use BGL's Hybrid Gel Top Coat (HGTC) to apply chrome and "Galaxy Holo Dust" powder to regular polish! Allow your polish to dry to the touch.
Directions:
[1.] Apply HGTC and Cure 1 minute under a UV lamp OR let dry to a tacky feel.
[2.] Rub your favorite chrome powder into the HGTC.
[3.] Top with "Tree Hugger" water-based top coat (to protect your powder's finish). [4.] Follow with a final coat of HGTC! That's it!!
Quantity is limited! Sold in a light-sensitive bottle. Be sure to protect from all light sources and close bottle immediately to prevent evaporation and/or accidental curing.
***Hybrid Gel Top Coat INGREDIENTS: Ethyl Acetate, Butyl Acetate, MEK, Collodion, Isopropyl Alcohol, Acrylates Copolymer, Benzophenone, CI 60725
---------------------**[NOTE: This is a shared listing.]**-----------------------
Galaxy Holo Dust:
Love "holo-chrome" nails? This powder can help you create the look! It's a cosmetically-safe, holographic nail art powder. Simply rub into "Hybrid Gel Top Coat" or any specialty gel top coat made for nail chrome powders (such as Elite99 "No Wipe Top Coat). Sold in 1 g pots. Please send an email if you desire a larger quantity.